Recovery Workbook
For Love Addicts & Love Avoidants
My newest book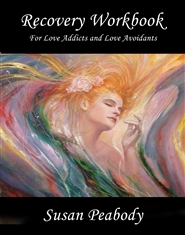 Click on one of these links to order a copy.
On sale for $12.95 at
The Book Patch
Faster delivery straight from the printer.

Table of Contents
Introduction
The Story of Goldilocks: Too Much—Too Little—Just Right
Love Addicts/Torchbearers
Codependent Relationship Addicts
Love Avoidants/Saboteurs
Seductive Withholders
Romance Addicts
Ambivalent Love Addicts
History of the Term Ambivalent Love Addict
Characteristics of the Ambivalent Love Addict
Chapter 2
To Recover You Must Change
Getting Started
The Process of Changing
Behavior Modification
Stumbling Blocks
Support Groups
Amazing Grace
Forgiving Others
Forgiving Yourself
Helping Others
Positive Thinking: Change Your Mind, Change Your Life
Mentors and Role Models
Progress Not Perfection
Summary
Chapter 3
Self-Esteem & Recovery
Chapter 4
Therapy
Psychodynamics
Transactional Analysis
Cognitive Behavioral Therapy
EMDR
Lacanian Therapy
Somatic Therapy
Important Lessons of Therapy
Therapy Works
Chapter 5
A Fine Romance
Ingredients of a Healthy Relationship
Things to Remember
Dating
Friendship
Courtship
Commitment
Partnership

Chapter 6
On the Horizon
About the Author
Acknowledgments
A Vision for You
Suggested Reading List
Comments from Readers
You are never too young to learn!

Home • Contact • Counseling • Links • Writings